9 Best places to visit in Vietnam
Planning a trip can be tricky. Especially if you are going to a country for the first time. But no need to worry, we are happy to share with you some of the best places to visit in Vietnam so you can plan your perfect itinerary and get the most out of your trip.
Vietnam's decision to open up the country to tourism has been a huge success. This amazing country has much to offer and the natural hospitality of the people makes a holiday in Vietnam a delight. There is something for everyone, from bustling cities to colonial landmarks, as well as a wonderful coastline with huge stretches of sand and warm waters – ideal for snorkeling and scuba diving. Some parts are still largely rural, the farmers and fishermen live as their forefathers have done for years. Remote regions offer a lovely pristine environment for those wanting to trek, while kayaking in the sea or taking a boat tour through its many rivers and channels will appeal to anyone looking for fun holiday activities.
Hanoi and Ho Chi Minh City have busy airports at either end of the country with plenty of international flights for overseas visitors. Domestic travel is quite easy and even though it can be slow at times, there is always something to see if you simply look out of the window. Vietnam was one of our most favorite countries to visit – amazing food, beautiful landscapes and rich history. And here is list of what we think are the best places to visit in Vietnam.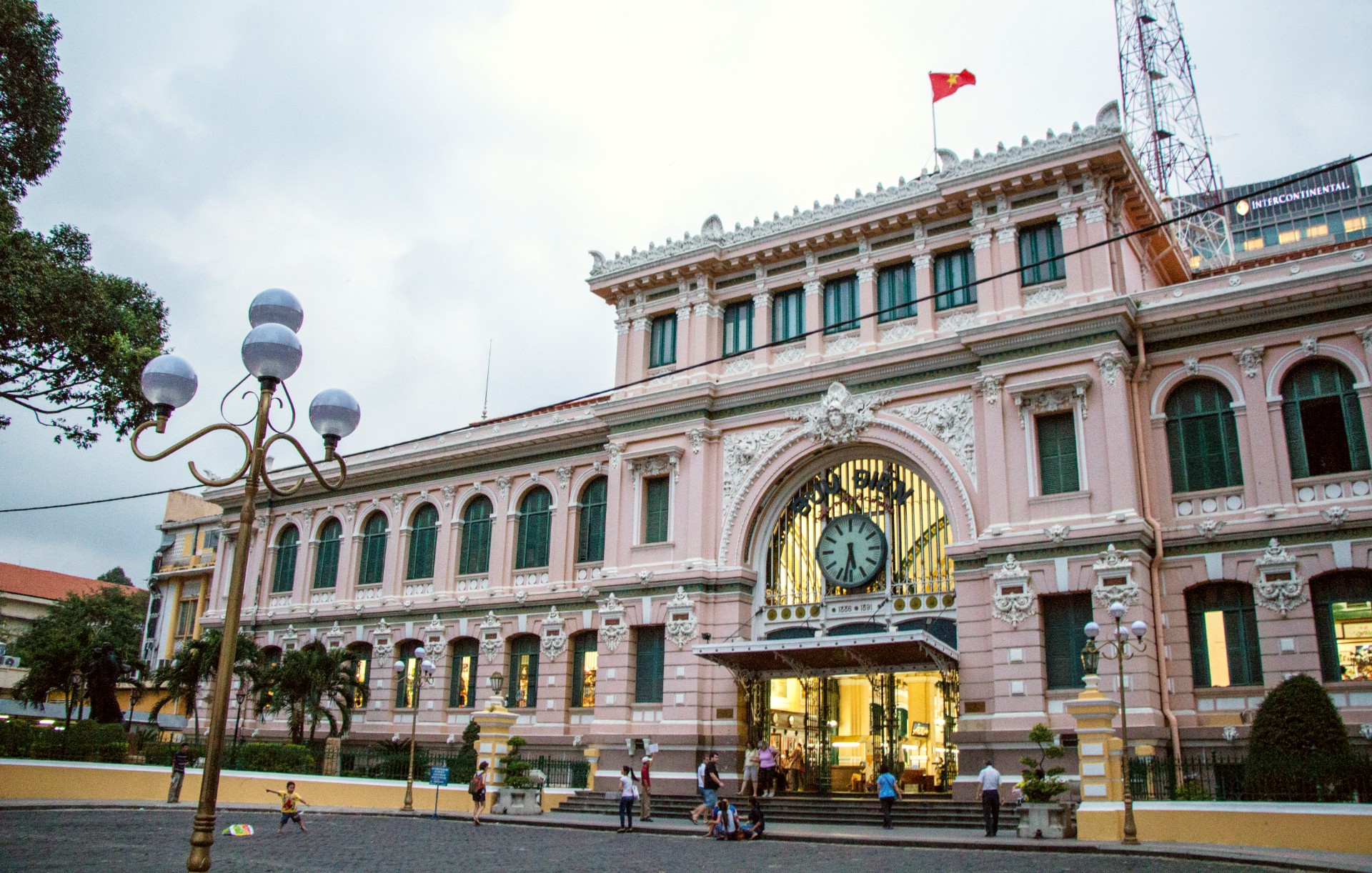 Formerly Saigon and the capital of South Vietnam, Ho Chi Minh City is the commercial center of Vietnam and its largest city. Its fall marked the end of the Vietnam War in 1975 followed by the renaming of the city after the Father of the Country, Ho Chi Minh, who had died just a few years earlier.
There is still plenty to remind visitors of foreign influence, especially the colonial architecture often dating from the end of the 19th century. Much of it is concentrated in one small part of the city: The Post Office, the Opera House, and Notre Dame Cathedral. The museums and impressive Reunification Palace are other sites worth visiting. Modern day skyscrapers are spread throughout the city center to remind us of the progress that is taking place in Vietnam.
The French also influenced the local cuisine – banh mi, a baguette with various fillings, is just one of the choices in the street while the variety of restaurants serving Vietnamese, other Asian and international cuisine is endless.
The Mekong Delta lies west of Ho Chi Minh City and reaches up to the border with Cambodia. This iconic river rises on the Tibetan Plateau and finally reaches the South China Sea in Vietnam. It is Vietnam's most fertile region producing huge amounts of fruit and vegetables. They make up a huge part of income for the local population and are sold in floating markets to wholesalers from nearby towns and cities.
These markets begin at first light, so tourists have an early morning start in order to watch the trading, but the effort is well worth it. Later in the day you should spend some time wandering down small offshoots of the main channels to see the orchards and watch villagers working in their fields. Fishermen are also hard at work to catch and sell their fish on a daily basis.
Homestays are available for those wanting to spend time in the Delta and you should also rent a bicycle to explore the local life in the more rural parts around Mekong River.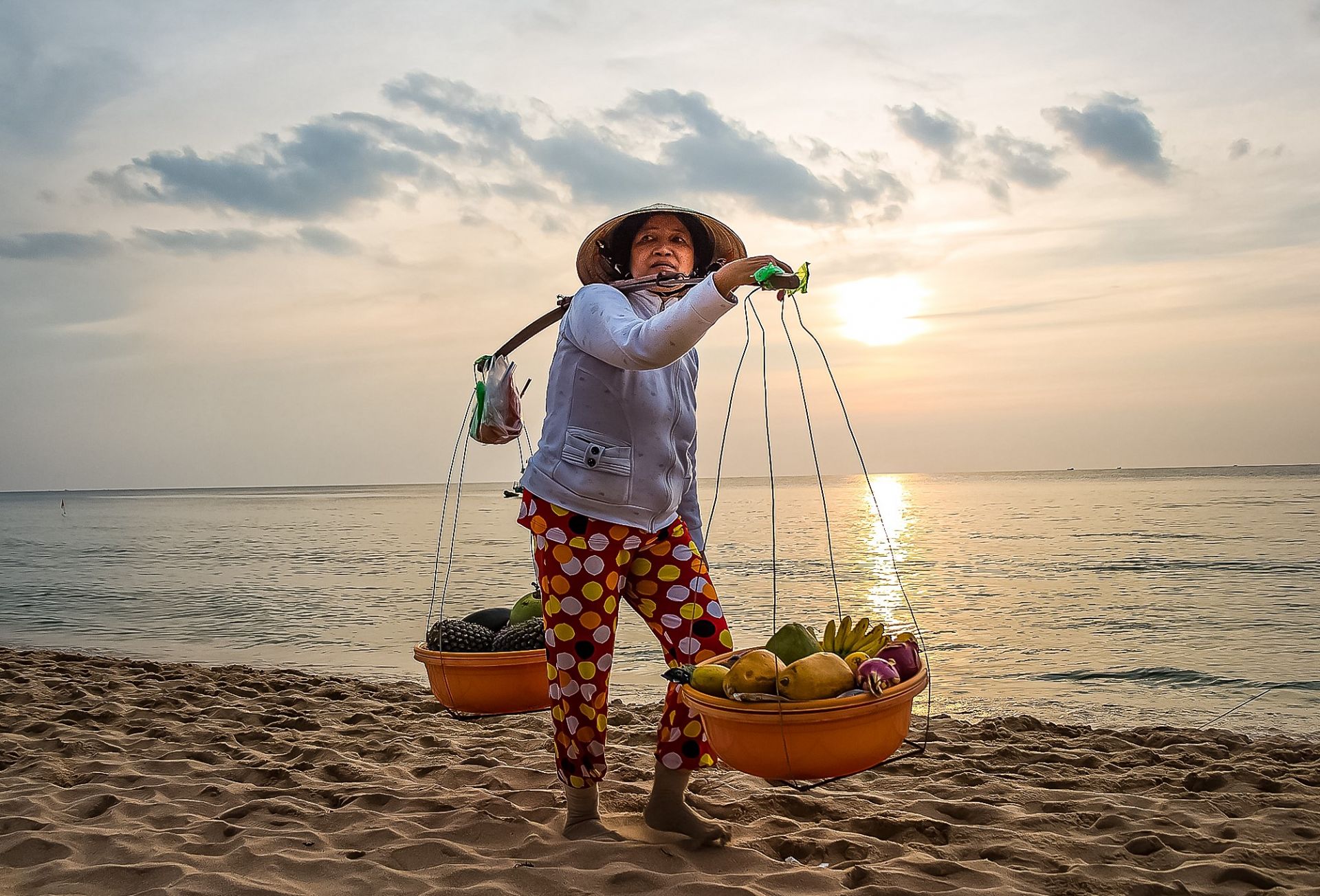 This island off the Cambodian coast is very much Vietnam. Its tourist infrastructure has developed over the years, but visitors will still be able to enjoy its tropical jungle, lovely sandy beaches, and inviting warm waters. It was once a French missionary post before the colonialists realized it would be ideal place to detain political prisoners. Those days are long gone but the wartime prison is still there for tourists to visit.
Phu Quoc is an ideal place to relax at any time but it is a great way to spend a couple of days after finishing your Vietnam itinerary on the Vietnamese mainland. Sunbathers are guaranteed a beautiful tan while those happy to rent a scooter can see local fishing villages and visit pepper and pearl farms. Hikers have plenty of trails to follow as they investigate inland.
Phu Quoc is one of the places in Vietnam that has made its name for nuoc mam – a fish sauce made from fish coated in salt and marinated for up to two years. And while the nuoc mam smell is not for everyone (it's even banned by some airlines), you will definitely find something to enjoy from the plethora of seafood options at the Dinh Cau night market.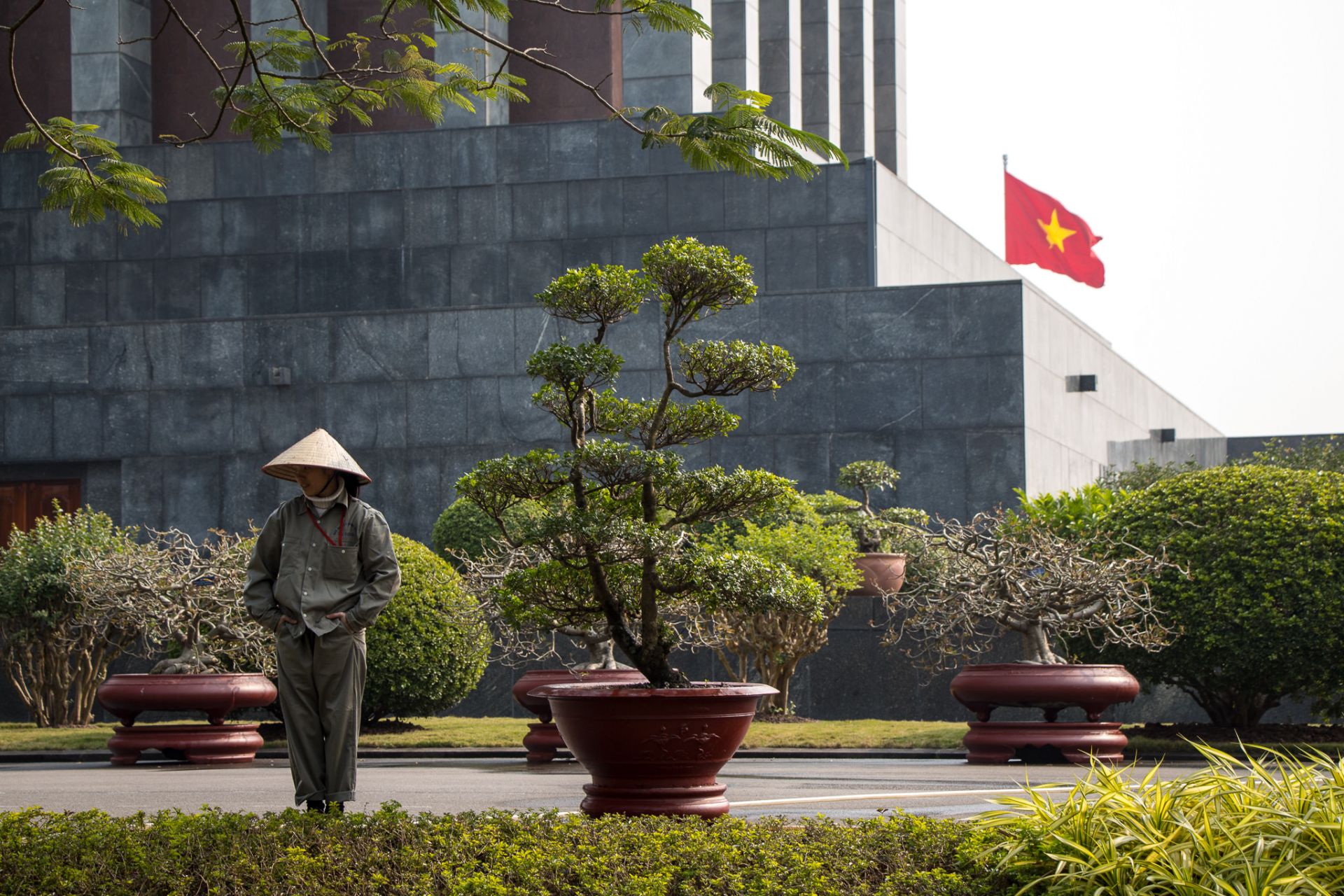 Hanoi became North Vietnam's capital after the Second World War. With the French expelled a decade later that remained the case and after the reunification in 1975 it became a capital of the unified country.
It is a vibrant city with reminders of colonial times in wide avenues and stylish architecture but you can also find traditionally narrow alleys in the atmospheric Old Quarter. When wandering around do not miss a chance to sample amazing street food! Motorbikes fill the chaotic streets and pedestrians seem to have no chances in crossing one. But don't worry, just start walking slowly and steadily and the riders should (will!) go around you because they are used to chaotic traffic and pedestrians.
There is something for every traveler in Hanoi – museums for those interested in history and culture, Ho Chi Minh's Mausoleum where the Father of the Nation still lies and the recreational areas such as Hoan Kiem Lake's shoreline. Visit the temple on a small island on the Lake then head to the nearby Water Puppet Show. All in all, Hanoi is definitely one of the best cities to visit in Vietnam.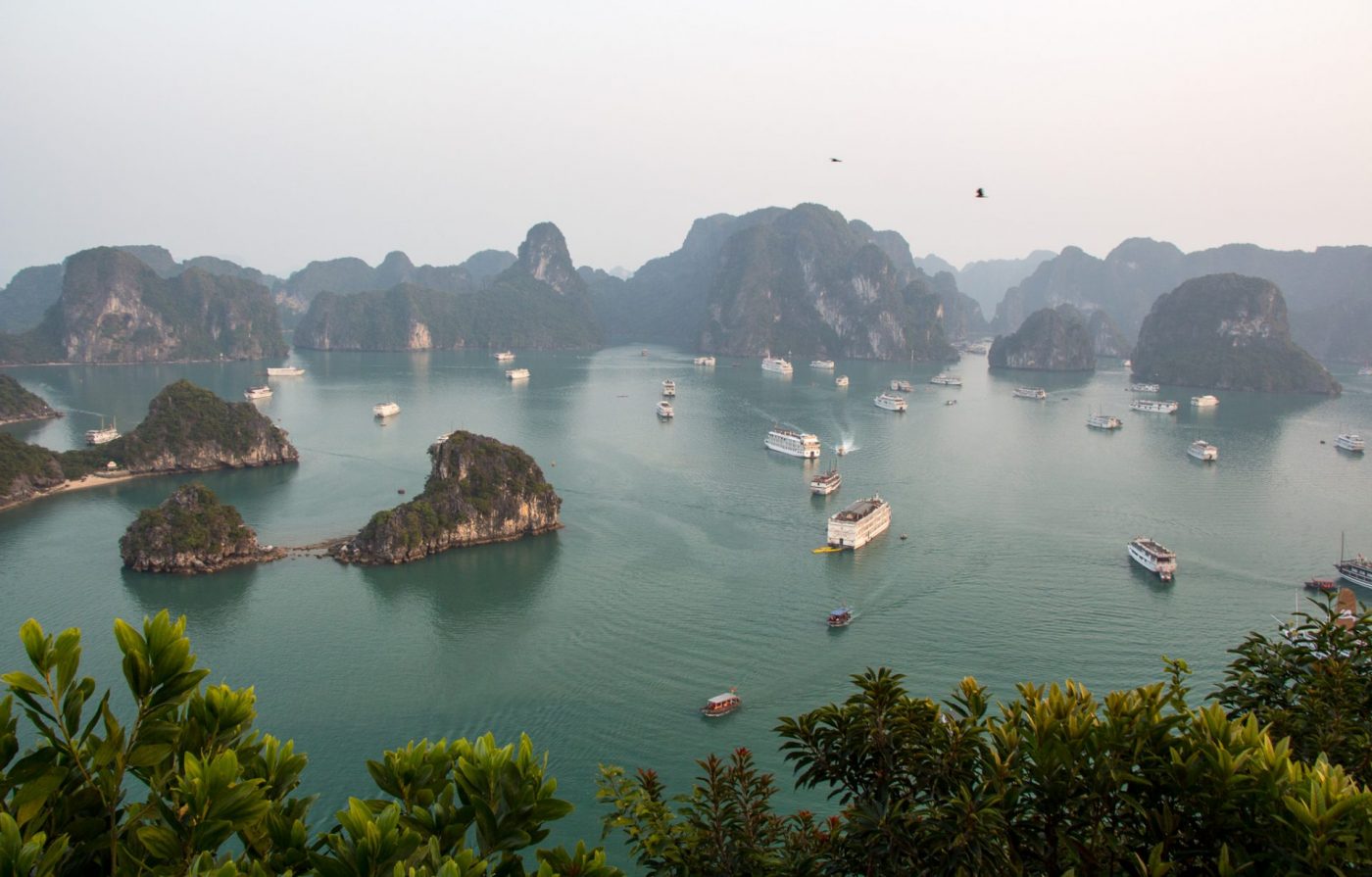 This UNESCO World Heritage site east of Hanoi on the Gulf of Tonkin is definitely one the top places to visit in Vietnam. Private transfer now takes just 2,5 hours unless there is serious traffic leaving Hanoi. The Bay has around 1,600 forested limestone islands rising up out of the turquoise waters where fishermen still seek a livelihood.
Cruising the Bay is a fantastic experience offering the chance of kayaking, swimming, exploring caves or just lying on a small beach. The largest of the islands in the south west, Cat Ba, has a developed tourist infrastructure including accommodation. However, most travelers who take a 2 or 3-day cruise on the Bay prefer a night on board in the stunning natural setting. There is nothing better than enjoying the peace of the night after the evening of karaoke with the boat crew.
The local seafood is wonderful and a dinner under the stars in the Bay with the fresh catch on your plate is a great way to end a day of sightseeing.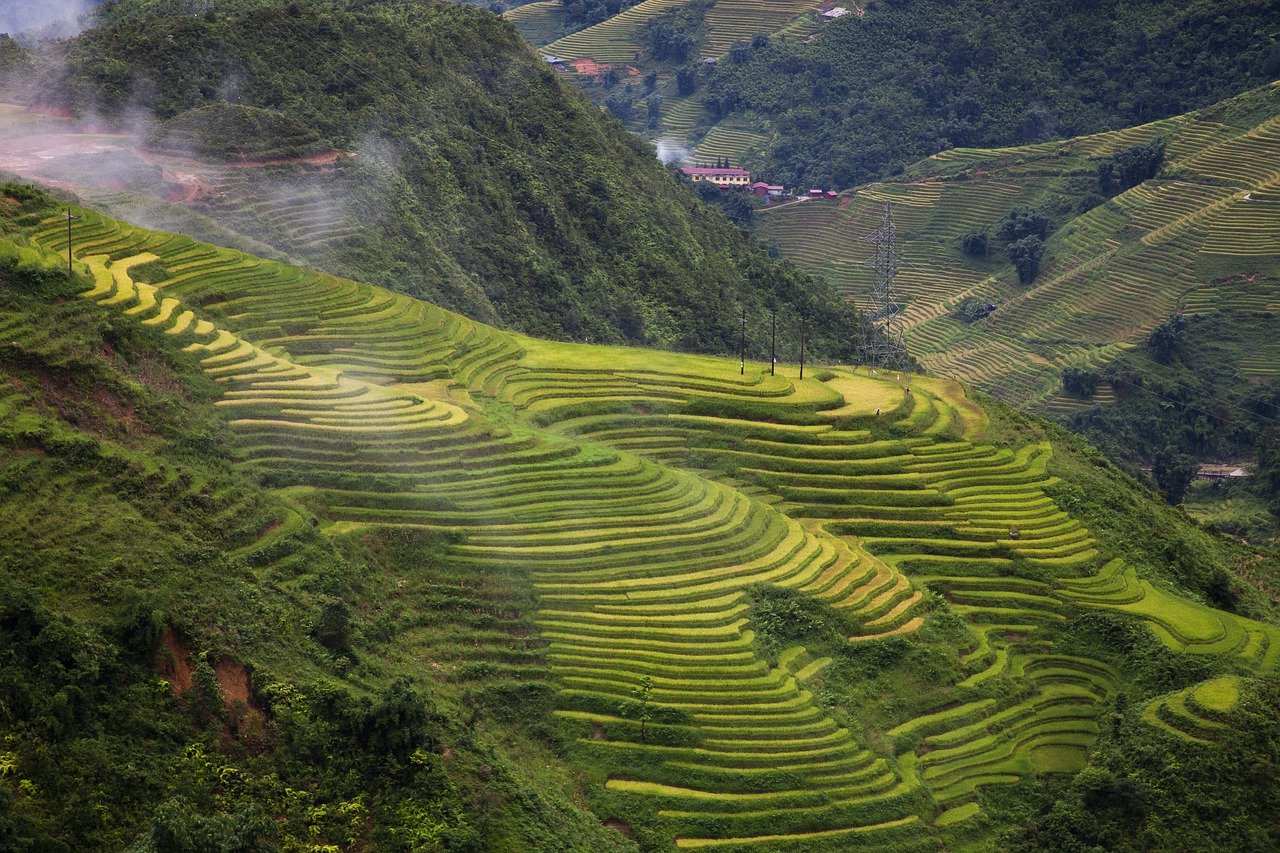 Sapa is a great hub for exploring the Northern Highlands of Vietnam up towards the Chinese border. There is an overnight train taking tourists up to Sapa or as an alternative, the road trip is worth taking even if it is not the most comfortable one you may have done.
Sapa is famous for its cascading rice terraces, hiking and market where ethnic groups come to sell their crafts and local produce grown in the highlands. The rice terraces where locals grow their rice offer different and unique views each season. The water filling the terraces glistens in the sun before green shoots push through. Those shoots thicken and change shade until harvest time in the autumn when they are golden and ready to be harvested.
Vietnam's highest mountain, Fanispan, is just a short distance from Sapa. It is almost 3,150 meters high and now there is a cable car to take you to the summit which climbers will take 2-3 days to reach.
Hue is a coastal city in Central Vietnam, located just north of Vietnam's third city, Danang. It was the capital used by the Nguyen Dynasty from the early 19th century until the departure of the French in the middle of the 20th. Even though the emperors had minimal power, they lived in luxury.
And that means they have left much for the future generations to admire. The Imperial Citadel (or Imperial City) is located on the north bank of the Perfume River and many of Hue's landmarks can be viewed when cruising the river. On the south side there is a number of impressive Imperial Tombs which cover large areas and are worth walking through to enjoy lush forests, majestic temples and colorful pavilions. No expense was spared to create an atmospheric setting.
The Thien Mu Pagoda, the symbol of the city with its many gold and silver Buddhas, looks down over the river and is also worth visiting.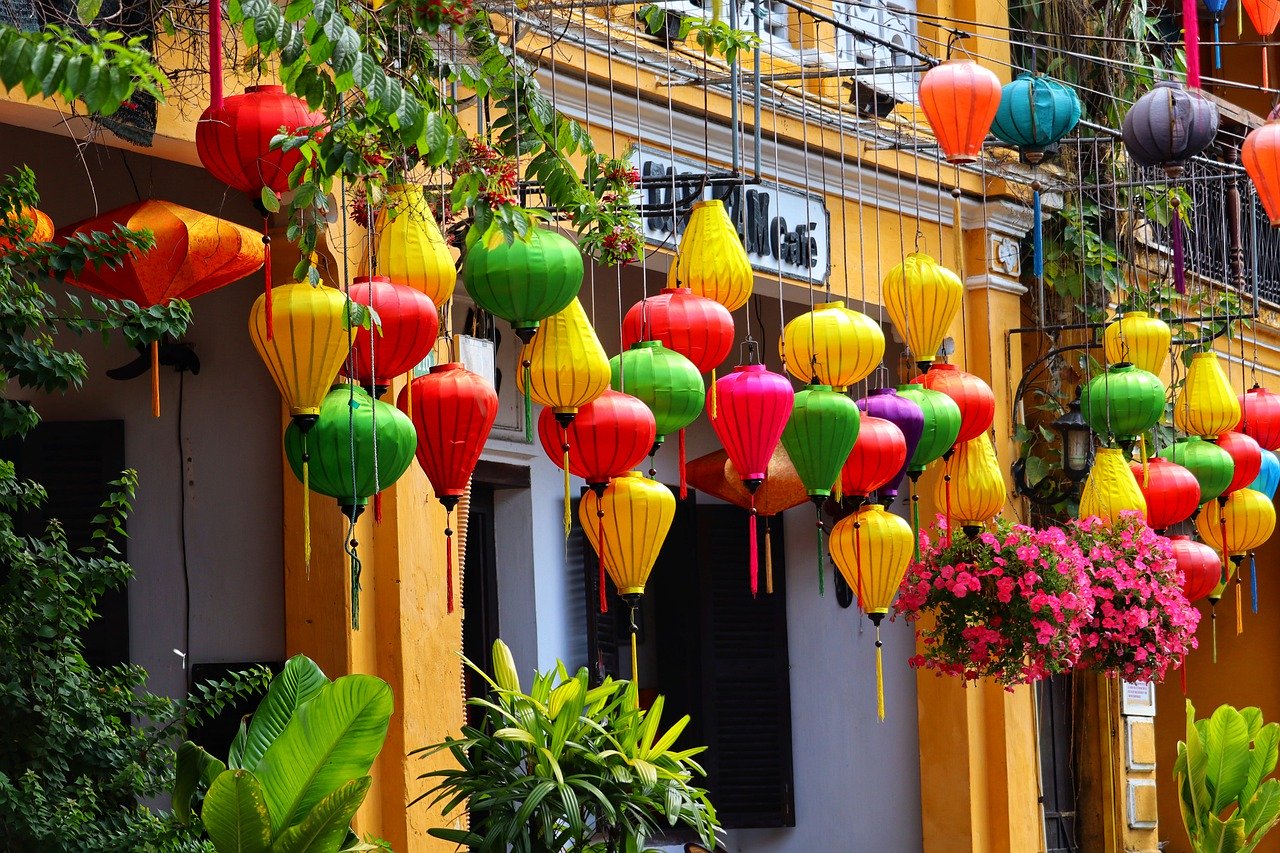 This former trading port dates back to the times of the Champa Kingdom that extended over Vietnam many centuries ago. Evidence suggests it traded with places such as Java as early as the 7th century.
This UNESCO World Heritage site provides plenty of evidence of foreign influences including the Chinese style architecture and the Japanese Covered Bridge which has a small pagoda within its structure. Its museums are a mine of information and when you are looking for the best places to visit in Vietnam, Hoi An is certainly a stop you should make.
Perhaps today Hoi An is known best for its colorful lanterns and tailors. At night, few places are lit up as brightly as Hoi An. And while there, don't forget to get a custom tailored garment that can be ready in as little as 24 hours in one of the hundreds of shops in the city.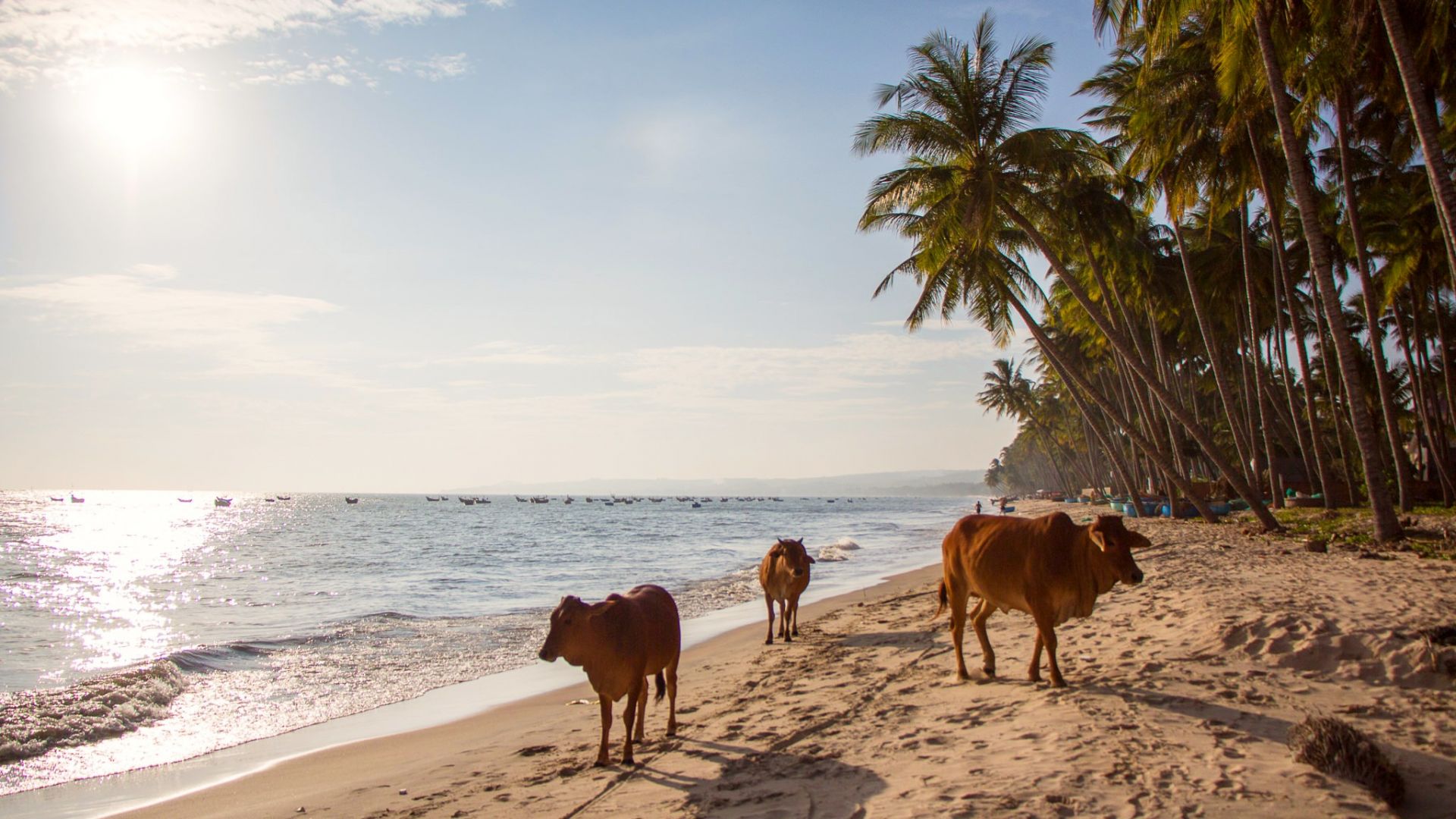 Increased tourist numbers and local prosperity has resulted in the growth of beach towns on the South China Sea. One such place is Mui Ne which is located close enough to Ho Chi Minh City to attract city dwellers for weekend breaks and international travelers looking to relax. Mui Ne is a crescent-shaped bay of sand that has turned what was formerly just a small fishing village into a place that attracts impressive tourist numbers each year. It was a place that gained publicity in October 1995 as a place to see the Solar Eclipse. What awaits tourists is 15 kilometers of lovely sand and beachfront resorts.
No visit to Mui Ne will be complete without visiting sand dunes (Red Sand Dunes and White Sand Dunes) and exploring the local life on the beach.
There is still a small harbor with fishing boats whose daily catch is regularly served in the restaurants surrounding the harbor itself. The local seafood market where everything from crabs to octopus are on sale is definitely worth a visit, just make sure to bring an empty stomach and a camera.