Legends and dragons in Ha Long Bay
If you are visiting Vietnam, be sure not to miss Ha Long Bay – a magical natural wonder in the north of the country. In Vietnamese, "Ha Long" literally means "descending dragon". People say that there are a total of 1969 islands in Ha Long Bay – coincidentally that is also the year when the nationalist revolutionary Ho Chi-Minh passed away. This UNESCO World Heritage Site is located about 170 kilometers from Hanoi and it took us about about 3.5 hours to get there by bus, because the roads were not that great. However, the new highway was opened in 2018/2019 and the travel time was reduced considerably. We booked a tour with one night stay on the boat, but there are many options to choose from. Read on to find out the best way to visit Ha Long Bay from Hanoi.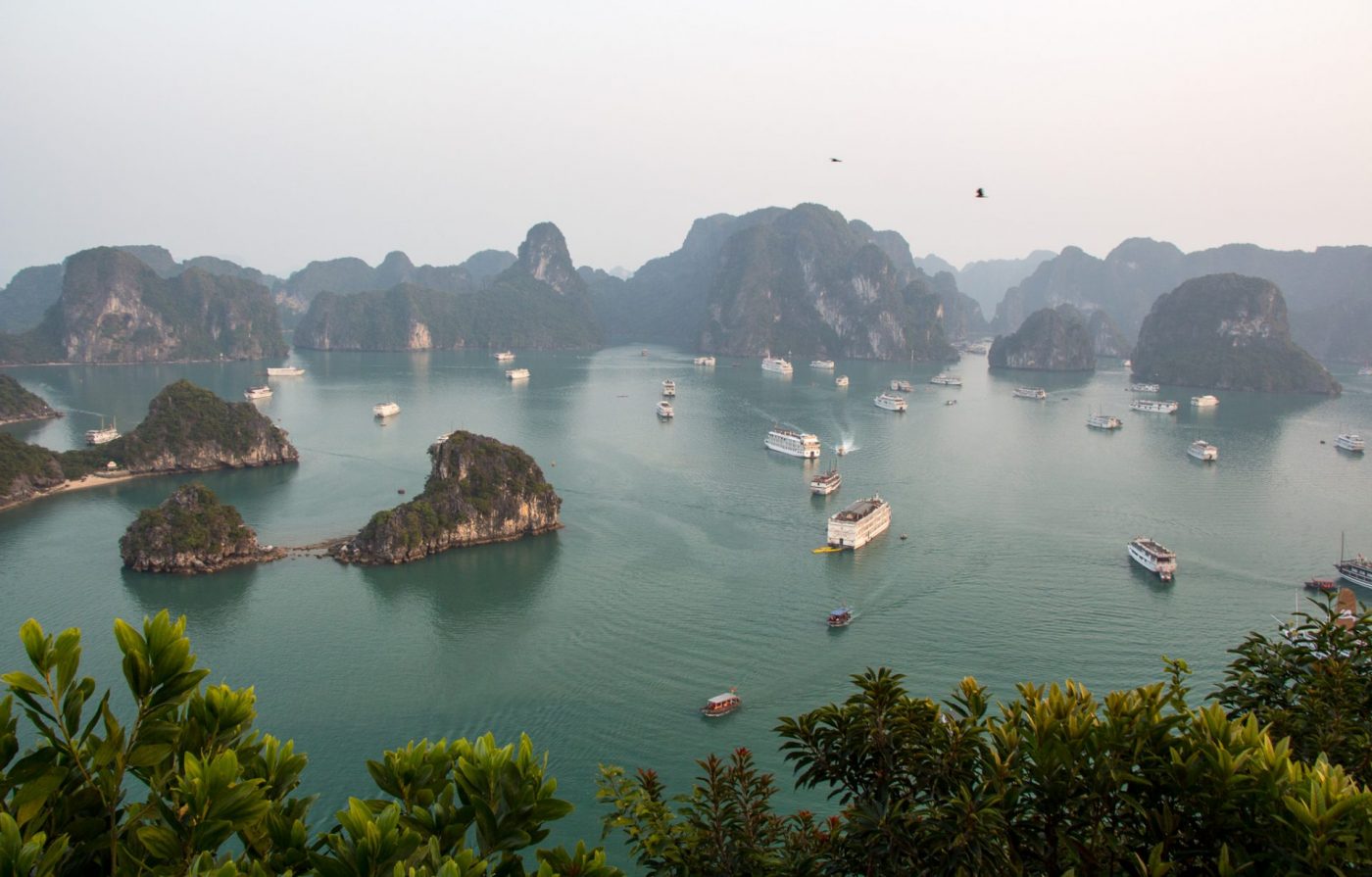 How to get to Ha Long Bay from Hanoi
There are many ways to get to Ha Long Bay from Hanoi – from an adventurous ride on a motorbike to a thrilling flight on a seaplane. However, the easiest and most common ways are by a shuttle bus or a private transfer.
Going from Hanoi to Ha Long Bay by shuttle bus
It used to take about 3,5 hours to get from Hanoi to Ha Long Bay by a shuttle bus. However, in the end of 2018 the new highway was finished and the distance was reduced by about 50 kilometers. At the same time, the travel time shortened to 2,5 hours making Ha Long Bay more accessible. You can book your shuttle bus tickets online or in one of the numerous travel agencies in Hanoi and expect to pay from $10 to $25 per person.
Going to from Hanoi to Ha Long Bay by a car/private transfer
You can also opt to go to Ha Long Bay by booking a private transfer. It will cut your travel time by half an hour resulting in a journey lasting around 2 hours. This option will definitely cost you more (about $75) than the shuttle bus, but it might be worth considering if you you are travelling with a group of friends or a family and want flexibility. The easiest way to book a transfer is to ask a tour operator to arrange one for you. Alternatively, you can just take a taxi, but make sure you agree on the exact price in advance to avoid any overcharges.
Best way to visit Ha Long Bay
The best way to visit Ha Long Bay is by taking a cruise. If you are really short on time, it is possible to take a day trip from Hanoi. The day trip packages include transfers from Hanoi to Ha Long Bay and a day cruise through the islands on a traditional junk boat. That was also our original plan, until we changed our minds and decided to extend our time in Ha Long Bay. A day trip makes it a very long day and to fully experience the beauty of this UNESCO World Heritage Site so we wanted to stay there longer. Also, how often do you spend a night on a Vietnamese boat surrounded by magical rocky islands?
Booking a Ha Long Bay cruise is not difficult, but choosing the one you like can be challenging. Prices range quite a bit depending on the number of nights onboard, how luxurious the boat is and the travel agency. Also, make sure the transfer from Hanoi to Ha Long Bay is included in the package to save some hassle. Booking online in advance may be more expensive than in Hanoi, but it could be a good idea during the busy seasons to make sure you get the experience you want. After comparing different tour companies in Hanoi, we ended up booking through our hotel. They had the best price and also allowed us to cancel one night at the hotel free of charge, because we spent it in Ha Long Bay.
The 2day/1night cruise included a stop to Bo Hon Island to explore the caves, a visit to the pearl farm, kayaking, and we docked at the Ti Top Island to climb some 400 steps to the top for an incredible view. We didn't book the fancy tour, however our cabin had a private bathroom and was better than the hotel we stayed in Hanoi. We thought that 2 days was enough to see Ha Long Bay, but we wouldn't have minded staying longer…