Tokyo - a megacity with many faces
Robot cafes, most Michelin starred restaurants in the world, little alleys filled with izakayas serving mouthwatering gyozas, futuristic skyscrapers, and vending machines on every corner selling from sake to panties – that's Tokyo. A mind blowing Japanese capital with the Shinjuku train station that serves more than 3.6 million passengers per day and a city that 14 million people call home (38 million if you include the metropolitan area). And don't expect to see it in a weekend – you could easily spend a lifetime exploring different neighborhoods, corners and attractions, so take your time and soak-up everything this amazing Japanese mega city has to offer.
What to see and do in Tokyo?
1. Grab the freshest sushi in Tsukiji Market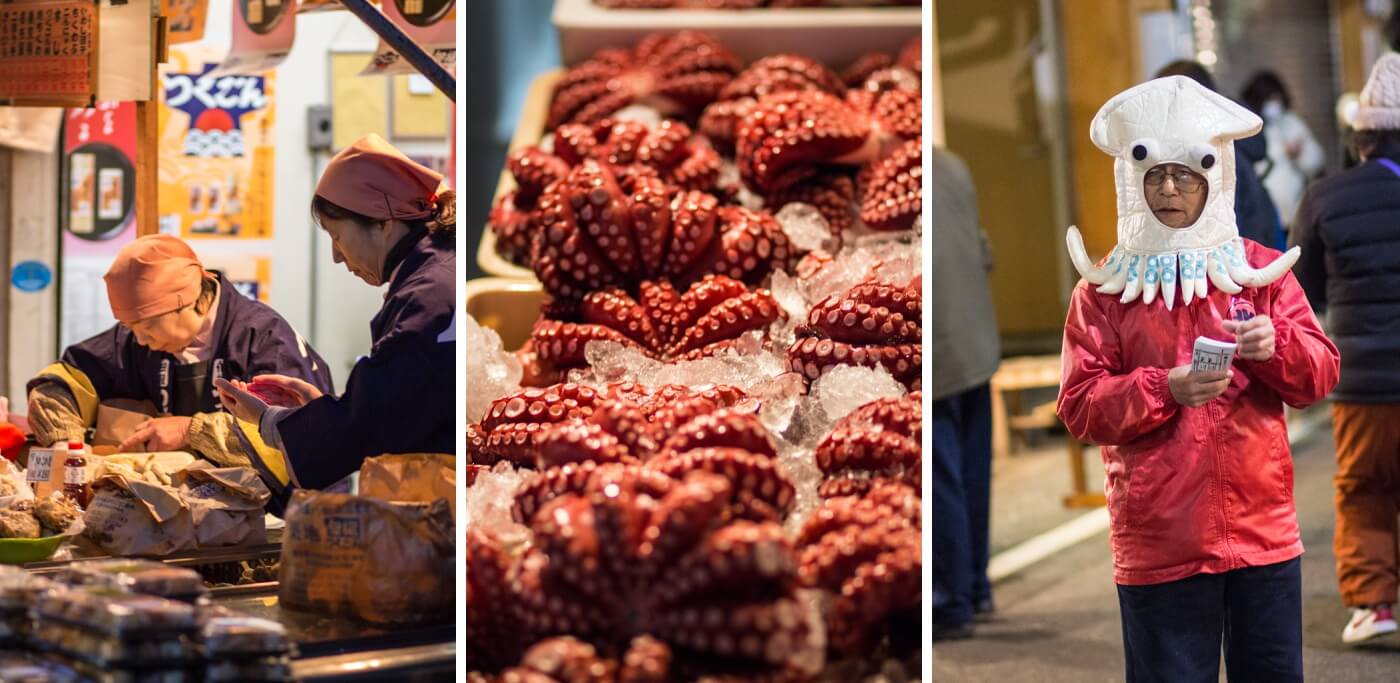 Tsukiji Market is the most famous and biggest seafood market in the world and rightfully so. It was made up of two parts – the inner market, focusing on wholesale, and the outer market, a few blocks around it filled with shops and restaurants.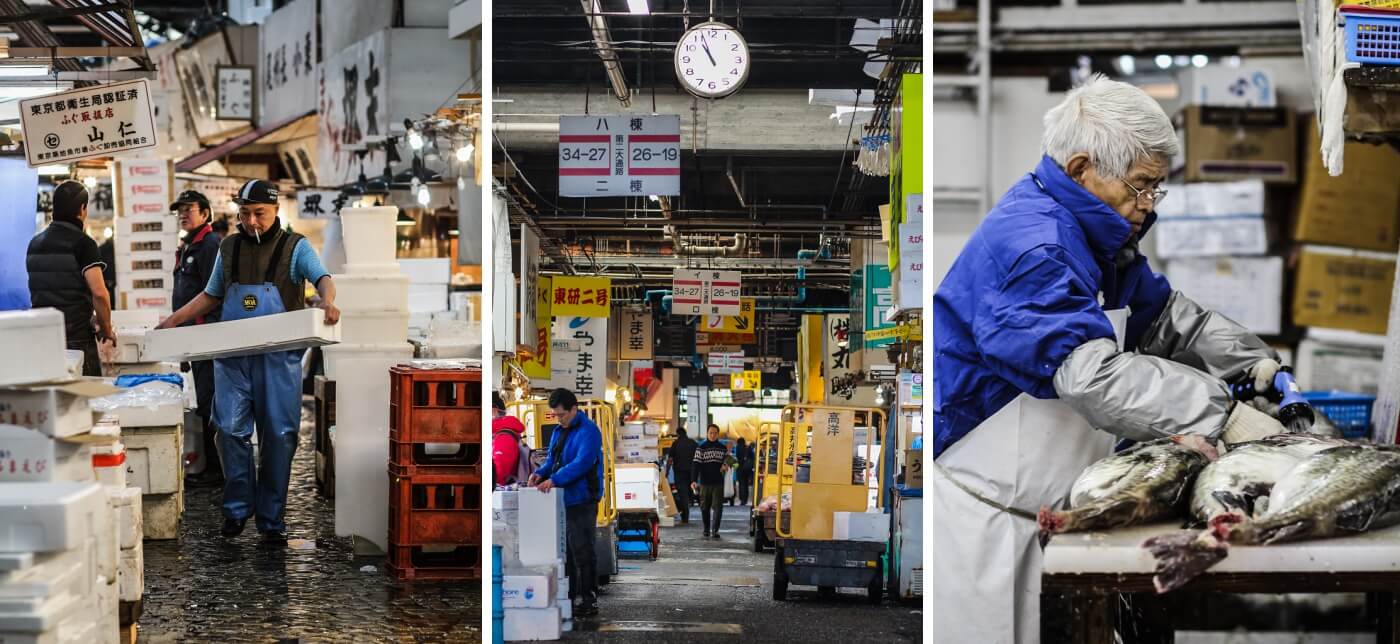 The Tsukiji Inner market has closed in 2018 and moved to a new location in Toyosu. It is famous for the tuna auctions where in 2019 a Japanese sushi restaurant chain owner paid $3.1 million for one bluefin tuna in the year's first auction.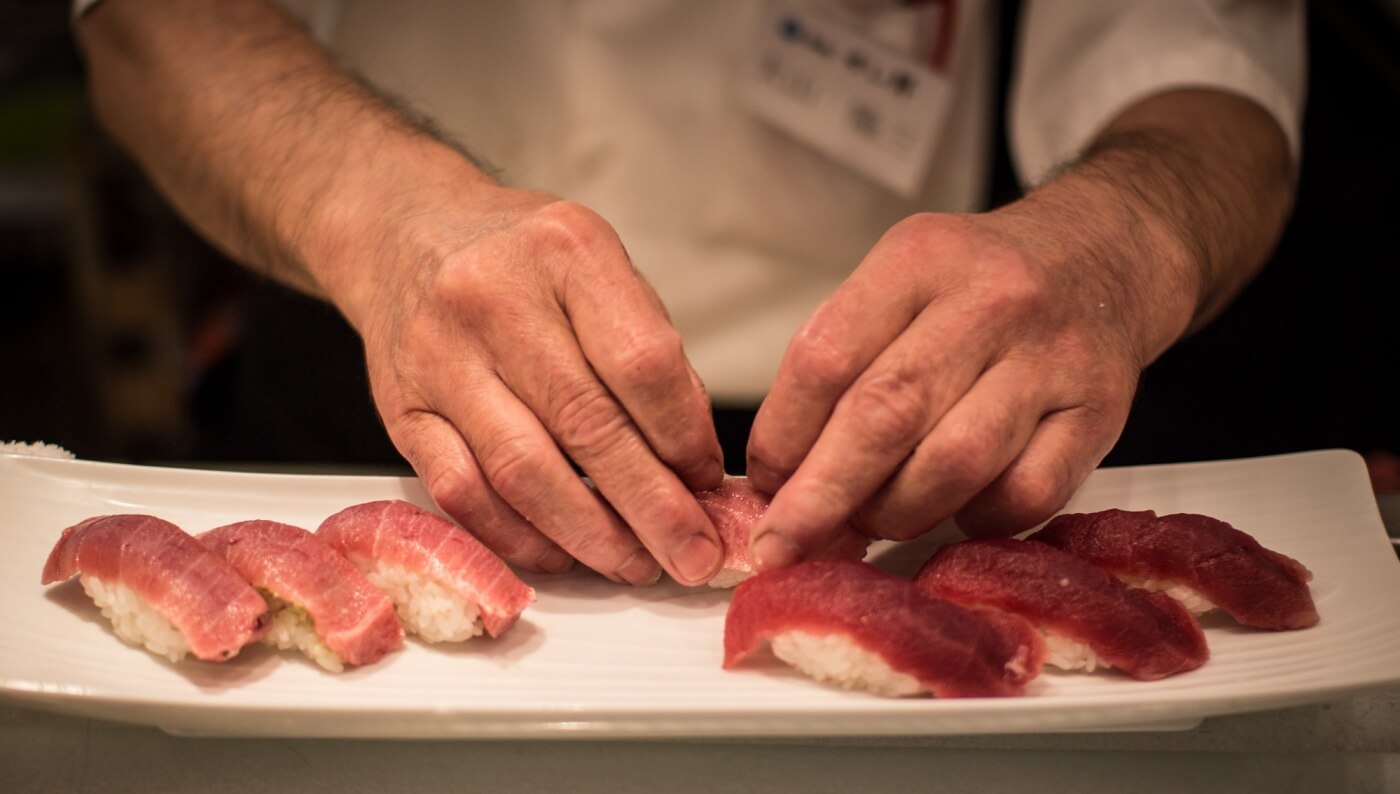 Tsukiji Outer Market remains open for business and it's a great place to grab some fresh seafood for breakfast. At 4 am, after a few drinks with a good friend that I haven't seen in years, we stopped by for some sushi. Now that's what I call breakfast of champions – the freshest, most amazing sushi I ever had. I was told by a local that at Tsukiji market you can get some of the freshest seafood in Japan, because it has to go there first after being unloaded from the fishing boats.
2. Go up the Tokyo Metropolitan Government Building
The 243 meter Tokyo Metropolitan Government Building is located in Shinjuku area and was the tallest building in the city until 2007. It has two observation decks that offer visitors breathtaking views of the city below – for free.
3. Wander around the Harajuku area for the latest teen fashion trends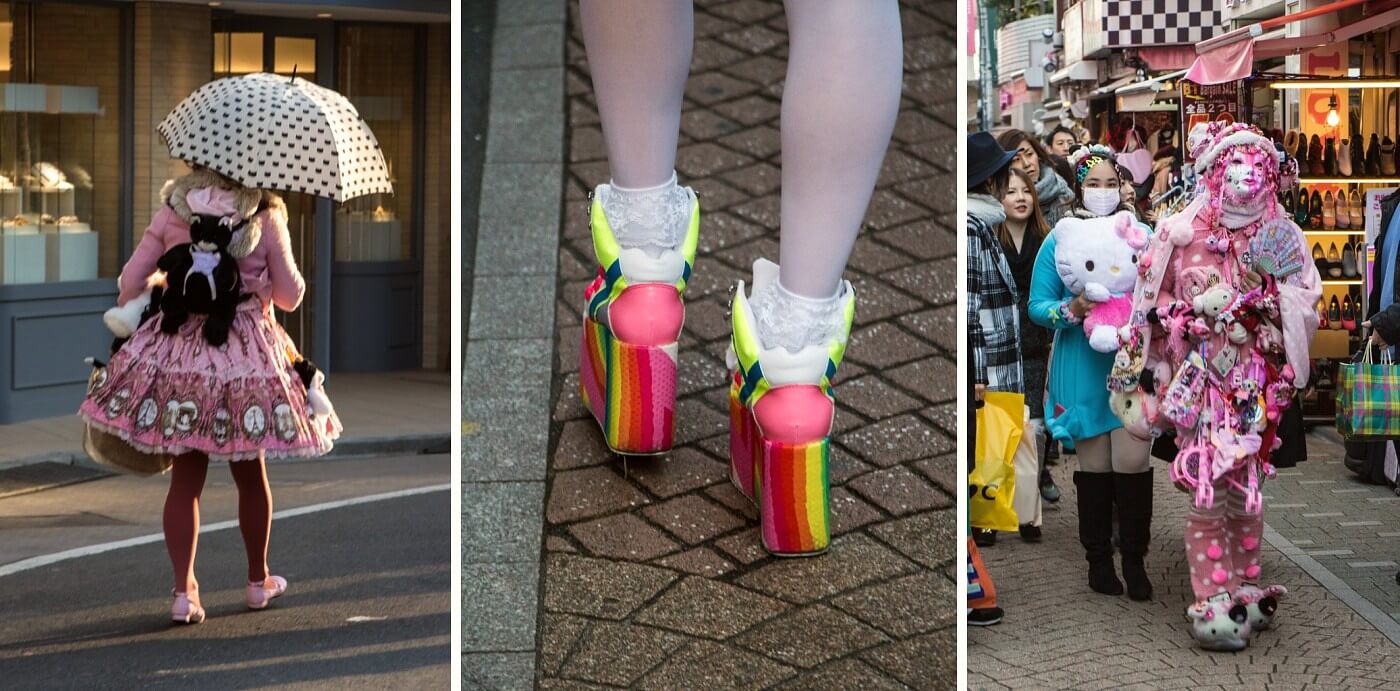 Hello Kitty meets punk rock while sporting traditional wooden sandals – welcome to Tokyo's Harajuku area. There is no better place to experience the quirky Japanese fashion trends and cosplay than in Takeshita Street, an epicenter of the most colorful and funky teen fashion styles in Japan.
4. Catch a sumo wrestling match (or a training session)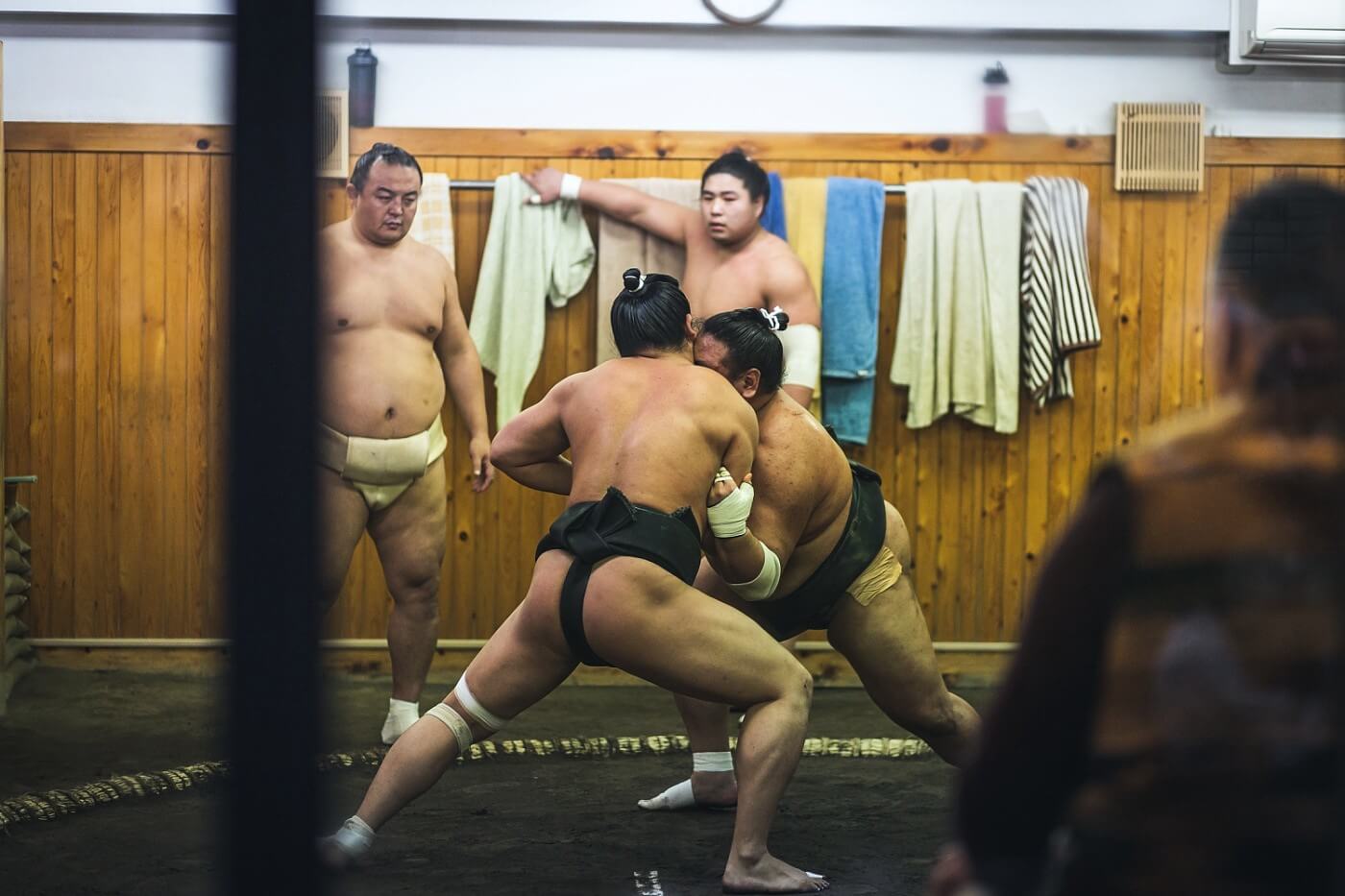 Sumo originated in Japan and it is the only country in the world where it is practiced professionally. If you want to see a match, then Japan is definitely the place to do it. However, if you are short on time, some stables have large windows and offer public a privilege to watch their morning training session (keiko) from outside. When in Tokyo, you can get a glimpse of the sumo wrestling practice session at Tokyo Arashio Beya stable in the Hamacho area.
5. Catch a show at the Tokyo's Robot Restaurant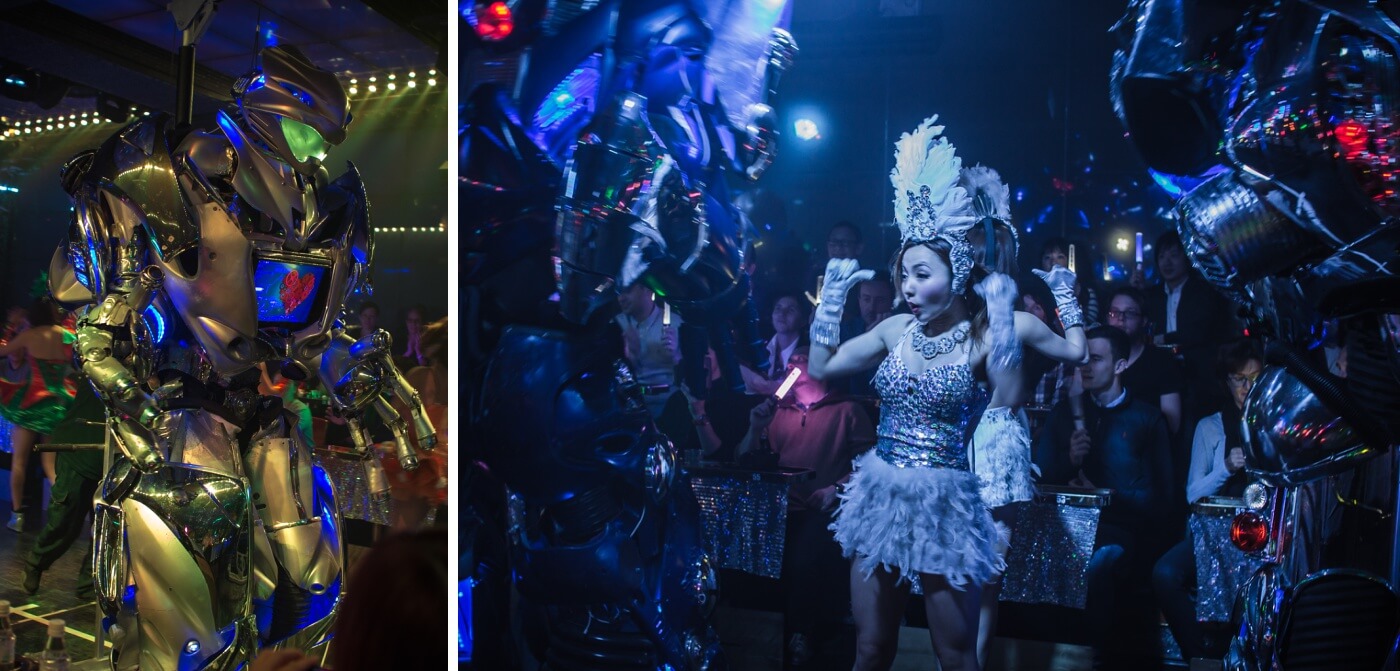 Yes, there are robots and food. But Tokyo's Robot Restaurant is a restaurant like no other in the world – an over-the-top, high energy show on steroids with fighting dragons, loud music, crazy dancers, jumping ninjas and flashing lasers.
6. Pay your respects at the Garden of Unborn Children
Next to Zojo-ji Temple you can find a Garden of Unborn Children – a somber place in Tokyo to mourn the unborn children lost in miscarriages, stillbirths and abortions. The rows of Jizo statues representing children are dressed up and decorated with toys and flowers by mourning families to help them grieve.
7. Do some (window) shopping in the Ginza district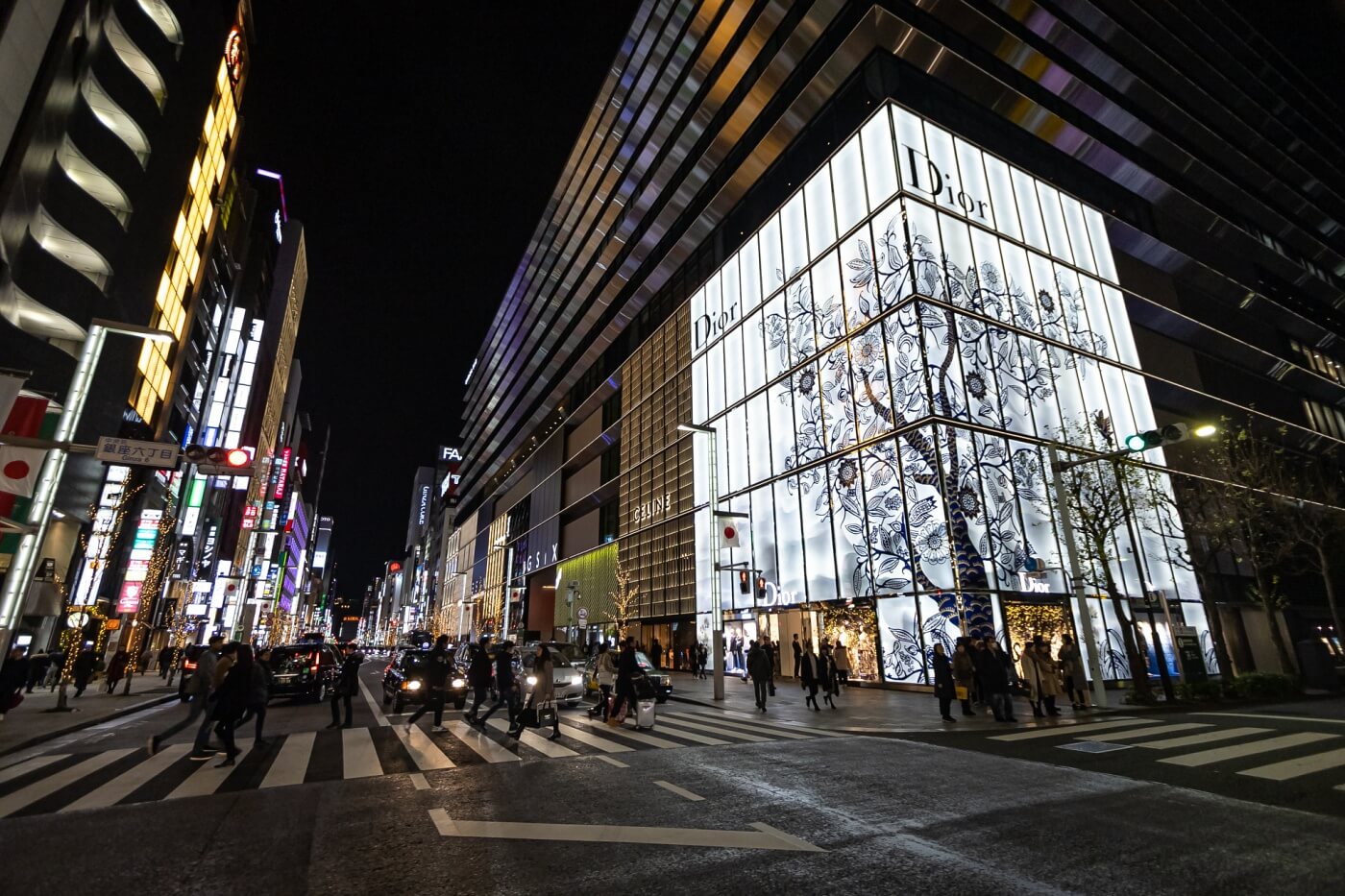 It is the most famous high end shopping and entertainment area in Tokyo with the most expensive real estate in Japan. It's kind of like the 5th Avenue in New York on steroids with any and every store imaginable. When in Ginza, don't miss the Sony flagship showroom where you can also find an art gallery and grab a cold IPA in the pop-up café.
For posh brands it is a matter of prestige to have a shop there and no expense or creativity is spared to impress the rich Asian customers. However, if $2,000 belt is not your thing, you can also find your typical stores such as Uniqlo and Don Quijote where you can pick up anything from everyday t-shirt to fun gadgets to matcha cookies.
8. Get the feel of the old Tokyo in Asakusa area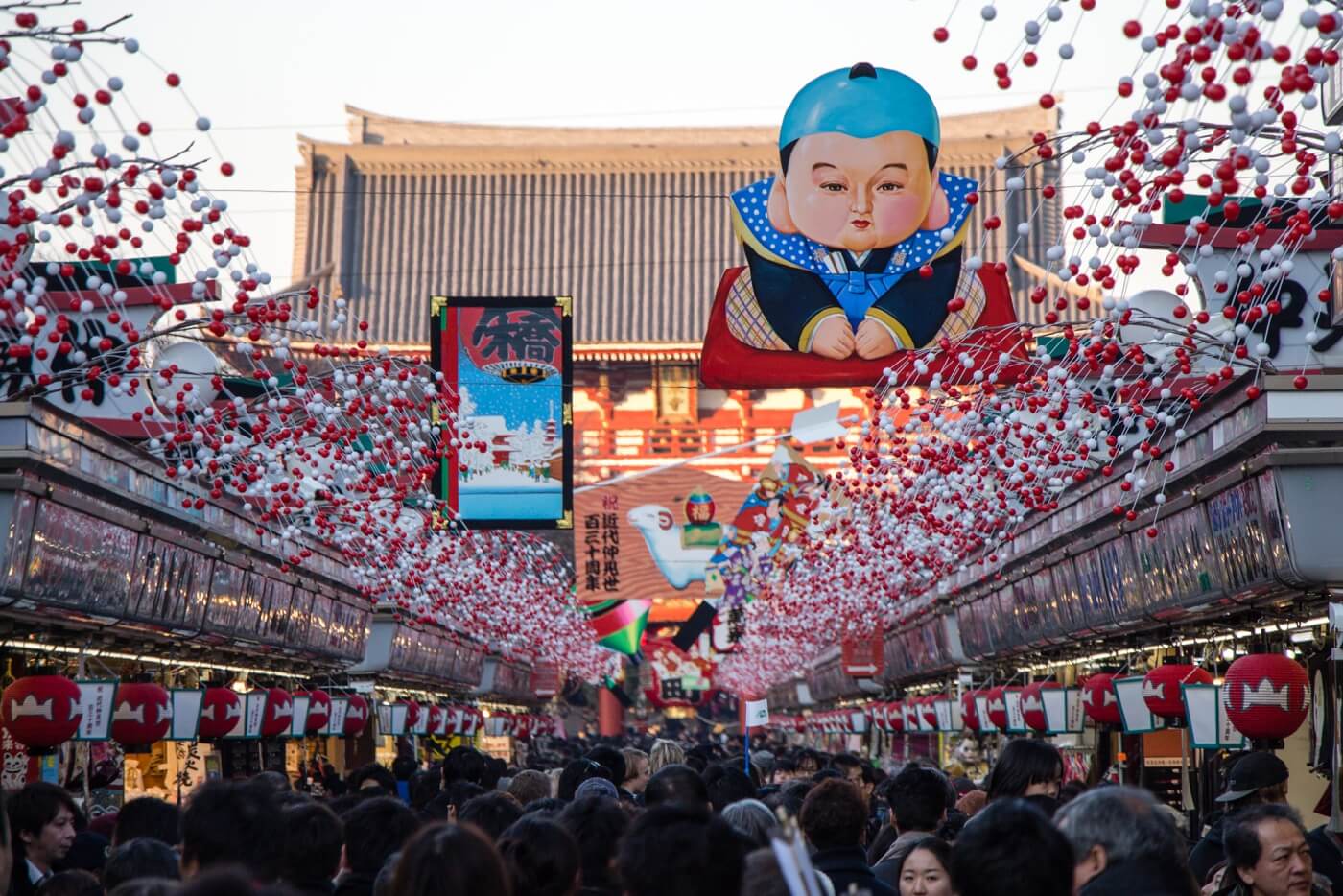 Asakusa area is where you will find the old city and the most famous Tokyo's temple – Sensoji temple. It was completed in 645 making it an oldest temple in Tokyo. A shopping street leading to it, Nakamise, is filled with the little stands selling traditional snacks and souvenirs.
9. Watch the orderly chaos at the Shibuya Crossing
If busy, neon lit intersections is you thing then Shibuya Crossing will make your day. When the traffic lights stop the cars, thousands of people fill the busiest pedestrian crossing in the world. It has been featured in a number of movies such as Lost in Translation and The Fast and the Furious: Tokyo Drift. Next to it, in front of the Shibuya Station, you will find a statue of Hachikō – a famous dog who continued waiting for his owner for over 9 years after he passed away.
10. Feel like in a sci-fi movie on a Tokyo train
Taking an elevated train ride to Odaiba district is an adventure in itself – riding between the skyscrapers makes you feel like you are in a sci-fi movie traveling through the mega city in 2050.
11. Visit the Statue of Liberty and the Miraikan science museum in Odaiba district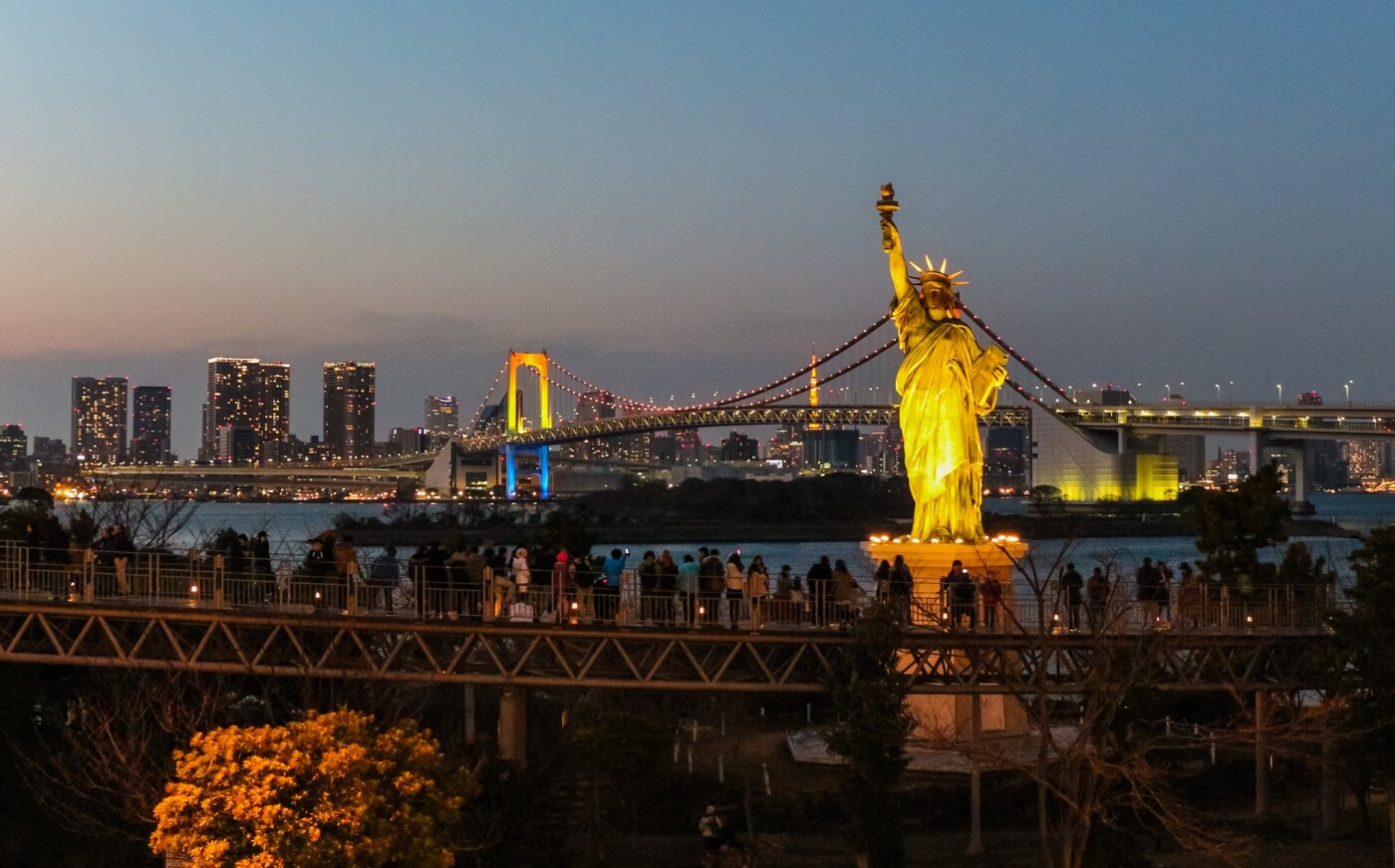 Welcome to New York. And by New York I mean Tokyo. To celebrate Japan-France friendship, the Statue of Liberty was temporarily moved from France to Tokyo's man-made island of Odaiba in 1998. It became so popular, that after its return to Paris in 1999, a permanent replica was erected in Tokyo. Even though it is about 7 times smaller than its sister in New York, it appears much larger due to its positioning next to the pedestrian walkway.
12. Grill your own dinner in one of the Tokyo's izakayas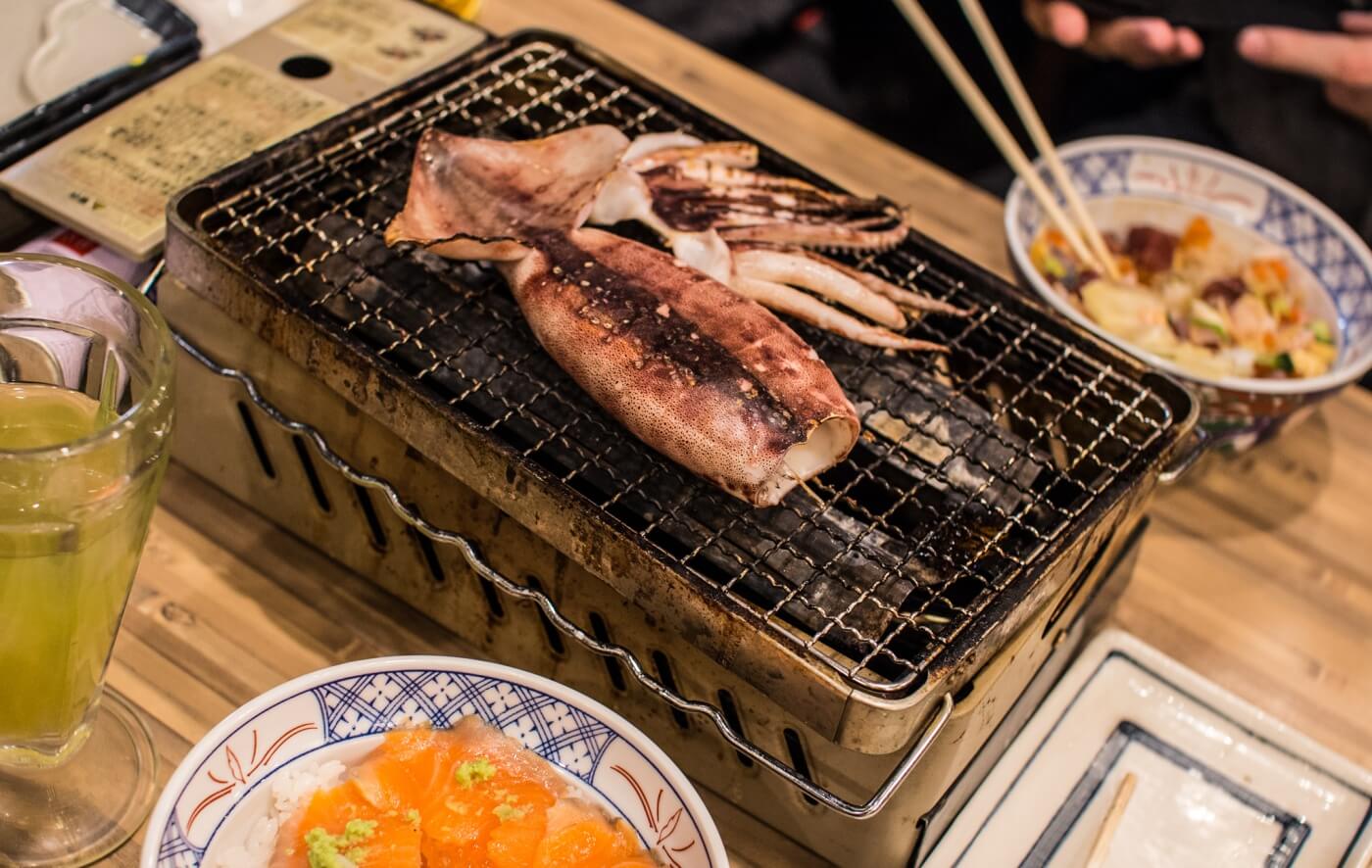 Tired of sushi and ramen noodles? No problem, you can opt for a grill-it-yourself squid (or other seafood) in one of the many izakayas in Tokyo. You can also order already prepared dishes from the menu if you don't feel like firing up the grill at your table.
13. Take in the best views of Tokyo Tower and the city below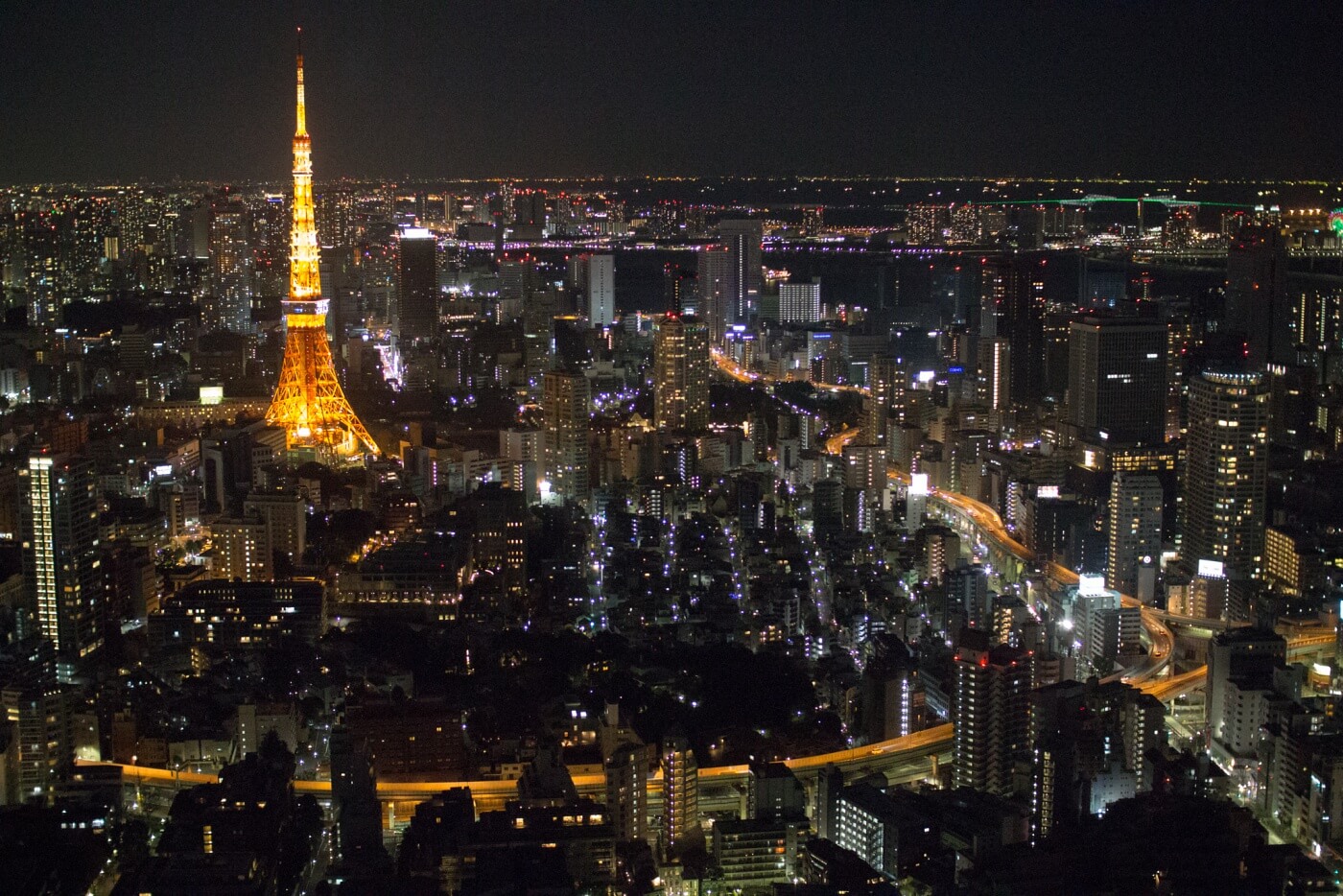 Best place to see Tokyo Tower and the city below? From the Tokyo Skytree. At 634 meters, the broadcasting tower is the second tallest structure in the world (after Burj Khalifa building in Dubai) and offers incredible views of Tokyo from its two observation decks. And the height of 634 meters is not accidental – the number can be read in Japanese as Musashi, an old name for the district where Tokyo is today.