Largest religious monument in the world - Angkor Wat
Culture is everywhere in Cambodia, but the location that exudes the true heart and soul of this part of the world is Angkor Wat. This Hindu temple in Siem Reap, Cambodia is a complex that is currently the largest religious monument in the world. The Khmer culture is quite prominent in this now Buddhist temple and that means you will learn so much about the Khmer people during your visit. 
In addition to seeing the Angkor Wat, Angkor Thom, Ta Phrom, and Bayon temples, we recommend taking some time to visit Preah Khan. Preah Khan is one of the larger sites of this entire complex and it is believed that it was a Buddhist University where one thousand teachers taught students many years ago.
The Elephant Terrace also piques many people's interest, which is why we always include it on our must-see list for this part of Cambodia. The terrace is one thousand feet and is surrounded by decorative lions. It is better to visit this part of Angkor Wat either early in the day, or later at night, to avoid most of the crowds. 
If you want to spend a little time with the locals, or you are hot and need to cool down, then a stop at Srah Srang needs to be towards the top of your itinerary. This area is also called the Royal Baths and it is a popular swimming hole for the locals. 
Best time to visit Angkor Wat
The best time to visit Angkor Wat in Cambodia is from late November until the early part of April. Those months are the driest in Siem Reap, and the rest of Cambodia, so you will not need to worry about rain or mud during your visit. However, we do want to remind you that thousands of other people will also be there at that time, so there will be major crowding at the more popular times of the day and the holidays. 
If you want to visit Angkor Wat at sunrise, you have to have to get your tickets and be at the site by 5:30am. On a clear morning, you can expect spectacular views, however it is also a very popular time to visit the complex and you should expect many people. Even if you don't go for the sunrise, morning is the best time to visit Angkor Wat, because you can avoid the midday heat. In addition, we found that evening light can be just as beautiful with fewer crowds. If you want to do sunrise and sunset, ideally you should spread your visit over two days, because it does get sticky during the day and climbing the ruins for 12 hours can be exhausting. 
To get the most out of your Angkor Wat experience, we highly recommend you take a guided tour of this historical religious site. This will ensure you do not miss out on any of the more intricate details, whether visual or historical fact about this ancient site. You will find many people claiming to be tour guides around this temple complex, but please make sure you choose one who is certified and not just out for your money. The best tours will take an entire day, so plan your time wisely. 
It is nearly impossible to truly appreciate Angkor Wat in just one day, which is why we recommend that you get a multi-day pass and go back again during your time in Cambodia. However, if you are really short on time, you can at least get a feel for this important attraction in just a few hours during your stay.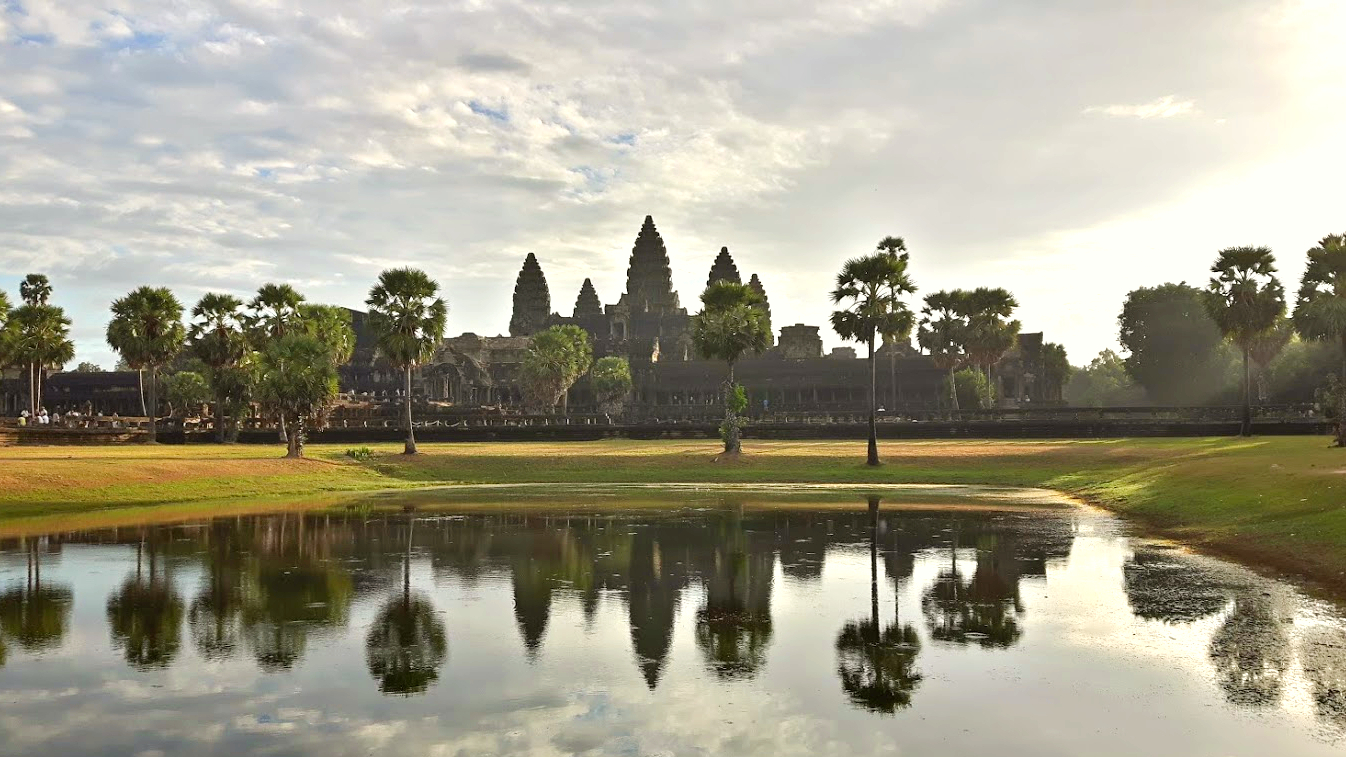 Angkor Wat is one of the most visited sites in Cambodia and rightly so. Getting there is not difficult and you should definitely find time to see it if you are in Cambodia. It is also not far away from a neighbouring Thailand and you should consider including it in your itinerary if you are in Bangkok and have a few days to spare. The closest town to Angkor Wat is Siem Reap and it makes a great base to explore the ancient temples. It also has an international airport that makes getting there a breeze.
How to get from Bangkok to Angkor Wat
There are two main ways to get from Bangkok to Angkor Wat.
The fastest option to visit Angkor Wat from Bangkok is flying. There are three airlines that fly directly to Siem Reap (Airport code: REP)  – Bangkok Airways, Air Asia and Thai Smile. The flight takes about 1 hour. Air Asia usually has the cheapest tickets, however it depends on when you want to fly and how much luggage you have. Once you land in Siem Reap, the town center is just 20 minutes away by a tuk tuk or taxi. To save the hassle and negotiation with the drivers at the airport arrivals you can book a transfer directly with the hotel you are staying at.
A second option to get from Bangkok to Angkor Wat is taking a bus. It can be much cheaper (about $30) than flying, but instead one hour it will take you closer to 9 hours. The good news is that the buses go directly from Bangkok to Siem Reap. The two main companies that serve this route are Nattakan and Giant Ibis.  At the border you will have to get a Cambodian visa that will cost you $30 and the bus company may also charge you a small fee for batch processing.
How to get from Phnom Penh to Angkor Wat
There are three most common ways to get from Phnom Penh to Siem Reap which is the base for exploring the ancient temples.
The easiest way is to fly to Siem Reap. There two main airlines that serve this route – Cambodia Angkor Air and Lanmei Airways. The short direct flight takes from 45 minutes to one hour.
The second option is taking a bus. There are a number of companies offering this service and a one way trip costs around $10. One of the advantages is that you will depart from the city center and won't have to go back to the airport. The bus journey from Phnom Penh to Angkor Wat will take about 6 hours, however be sure to do your research before buying the tickets, because the service and bus type differ from company to company. You might also consider getting a night bus so you don't have to waste a day of your trip on travel.
A third option to get from Phnom Penh to Angkor Wat is taking a taxi. It costs around $80 for a one way trip, but depends on the type of car. The travel time is about 5 hours, but you can also opt to make some stops along the way to explore Cambodia. The advantage of taking a taxi is that you can leave whenever you want. Also, you can go to Siem Reap directly from Phnom Penh airport if you decide to skip the capital, however I think it's definitely worth spending at least a day or two in this hub of Khmer Empire.